Tom Cruise And Katie Holmes Divorce; Tom Caught Cheating?
Tom Cruise And Katie Holmes divorce after five years of seemingly blissful marriage starting in November 2006 in Italy – "TomKat" is no more. Maybe call it "TomNoKat."
At any rate, reports are that it was Katie Holmes who initiated divorce proceedings – asking for, according to the blog TMZ.com, "primary residential custody" of their 6-year-old daughter, Suri, and because of "irreconcilable differences" – and to the point of filing the papers not in California, but in New York. It was Tom Cruise' third marriage and Katie Holmes's first marriage.
Why?
Reasons for the split are flying around the Internet. People Magazine claims it had to do with the role of Scientology and Tom's some-would-say obsessive involvement in it, and how that was threatening to impact Suri's development in a way that Holmes felt was undesirable. On May 30th, The National Enquirer ran a story claiming that Cruise was found in bed with another woman. TNE asserted that he was "caught cheating" and never ran a retraction of the story.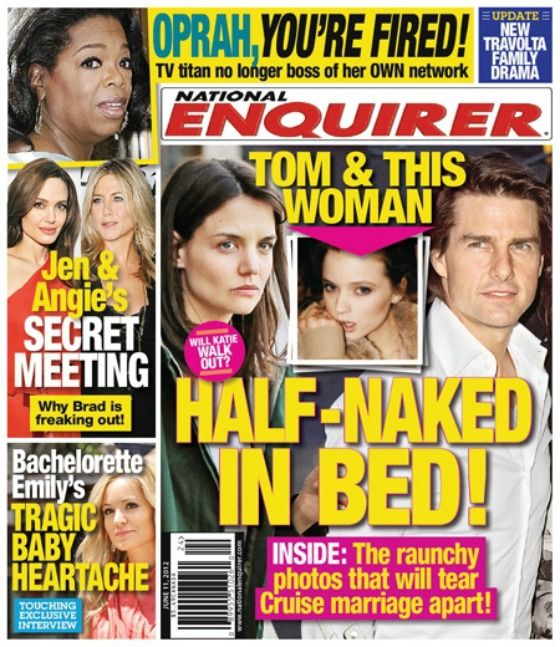 The woman who was at the center of the claims is named Olga Kurylenko, but it's not the first time Tom has been linked to claims of cheating on Katie Holmes. In 2007 actress Tiffany Dupont supposedly came forward to say she was the woman who slept with Tom Cruise and to blogger Perez Hilton, but the story was revealed to be fake.
But unlike Hilton, The National Enquirer does have a John Edwards-fueled reputation for getting cheating stories right. Olga Kurylenko is Tom Cruise co-star in the current movie he's working on called Oblivion. TMZ.com has a blog post featuring Tom walking with a woman other than Katie Holmes (not that there's anything wrong with that in and of itself).
Still, where there's smoke, there's fire. I think there's a lot more going on that an issue with Scientology because Cruise was blindsided by the news, and has been away from Holmes a lot recently, even though he never took off his wedding ring. Where there's smoke there's usually fire, and the only people willing to put out this one seem to be those bent on accusing Cruise of being Gay.
Stay tuned.