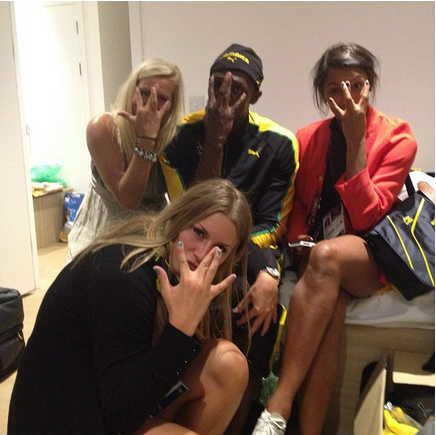 "Usian Bolt Visited By Swedish Women Athletes; LeBron James Rejected By Lauren Perdue" – that tells you all you need to know about the difference between American and European / African cultures, sex, and race. Jamaica's Usian Bolt, the fastest man in the World, gets a visit from female members of the Swedish Handball Team, while LeBron James can't even get a dinner date in the giant, crowded dining hall with USA Swimmer Lauren Perdue.
Here's the FYI from Swedenews:
Gabriella Kain, Isabelle Gullden and Jamina Roberts partied with Bolt after they asked for "special accreditation" to meet their idol.

Despite losing all five of their matches and finishing bottom of their group, the Swedish handballers managed to win the attention of Bolt's manager who obliged with an introduction.

And, off the handball court, they turned out to be real players, partying for three hours in his bedroom.
Roberts said that the group passed the time talking, posing for photographs and looking at Facebook.

"We met his coach in the dining room and asked if we could follow on and meet Bolt," the Mirror quoted Roberts as saying.

"It was awesome, he wasn't cocky or anything. He wasn't drunk, either, he'd just got back from the race," she said.
According to reports, Jamaican decathlete Maurice Smith also joined the party.
Like I said, we have a problem in America. While Usian Bolt is being visited by the Swedish babes, LeBron gets turned down by an American swimmer who brags about being from the racist South, and a white supremacist goes and shoots up an Indian mosque because he's an idiot.
America needs an attitude adjustment.
Stay tuned.